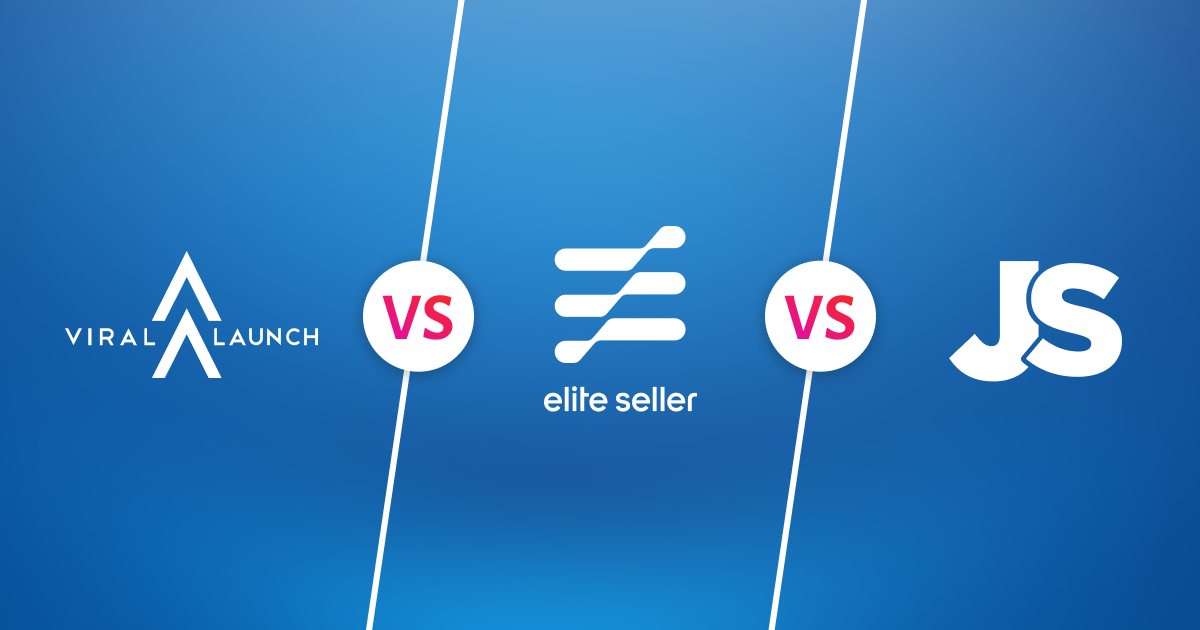 Jungle Scout vs Viral Launch vs Elite Seller: A Detailed Guide
Reviews can be great but they also can be biased. Let's say you pick a restaurant to dine at and search the Yelp reviews for some guidance and insight. One restaurant looks great, but two people left scathing reviews.
More than likely, you aren't going to go because of those two reviews. But it could be a great place to eat. Maybe the kitchen was short-staffed that night. Maybe there was a shortage of food due to supply-chain issues. Maybe the people leaving the review were typical "Karens" that would never be pleased by anything.
The point is that reviews and testimonials aren't always the best means of choosing something and this is particularly true when it comes to Amazon Sellers and how they perform.
So, we decided to take the most popular Amazon software tools and dissect the pros and cons of each from an objective point of view. We hope this guide helps clarify the right Amazon Seller tools that fit your business needs.
Jungle Scout vs Viral Launch vs Elite Seller
Are you looking for the best Amazon seller tool that can help you launch effective campaigns and products? Jungle Scout, Viral Launch, and Elite Seller are three of the top-performing Amazon seller tools on the market today – run by some of the top Amazon sellers and thought leaders in the industry.
These data-driven platforms give you access to most – if not all – the tools and information you need to facilitate effective product launches, research products, and grow your Amazon FBA on a single dashboard.
If you have struggled to find the right Amazon automated tool for your business, you certainly aren't the only one. There are dozens on the market that all promise business relief and expansion. So, we're going to walk you through three of the most highly-used Amazon seller tools that are based on facts – not reviews from merchants selling charcuterie boards.
Features: Jungle Scout vs Viral Launch vs Elite Seller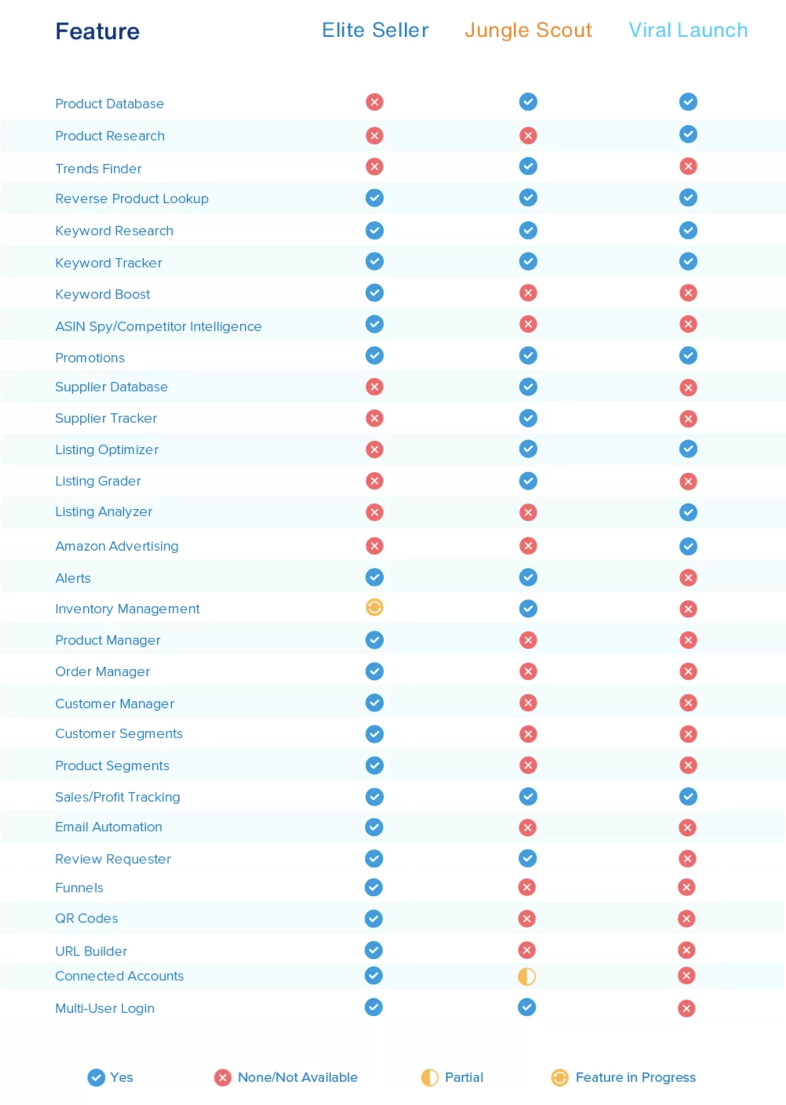 All three Amazon FBA tools have a plethora of features to offer. That said, you might find that one is more functional or user-friendly towards your needs than the other. Jungle Scout may seem like the most popular choice – because it is.
But it's important to keep your mind open. After all, a lot of other sellers choose not to use this tool and have thriving businesses.
Most Popular Jungle Scout Features
Jungle Scout is geared towards budget sellers, beginners, and Amazon business owners who want to perform simple product research. Jungle Scout is best known for helping newbies or aspiring Amazon sellers find the most profitable products to sell.
Jungle Scout offers the following features to help jump-start your FBA business:
Optimize your listings
Get more reviews
Manage your inventory with ease
Gain insight into your finances
Enhance your keyword strategy
However, they are most acclaimed for the following:
Niche Hunter
Perfect for Amazon sellers scouting their next product, this tool helps you evaluate relevant niche ideas based on your set parameters. Basically, it lets you view the following information alongside valuable data to help you make your decision:
Product categories
Competition
LQS or listing quality score
Average prices
Opportunity scores
You're able to set your own filters, so you only see information that you want.
Product Database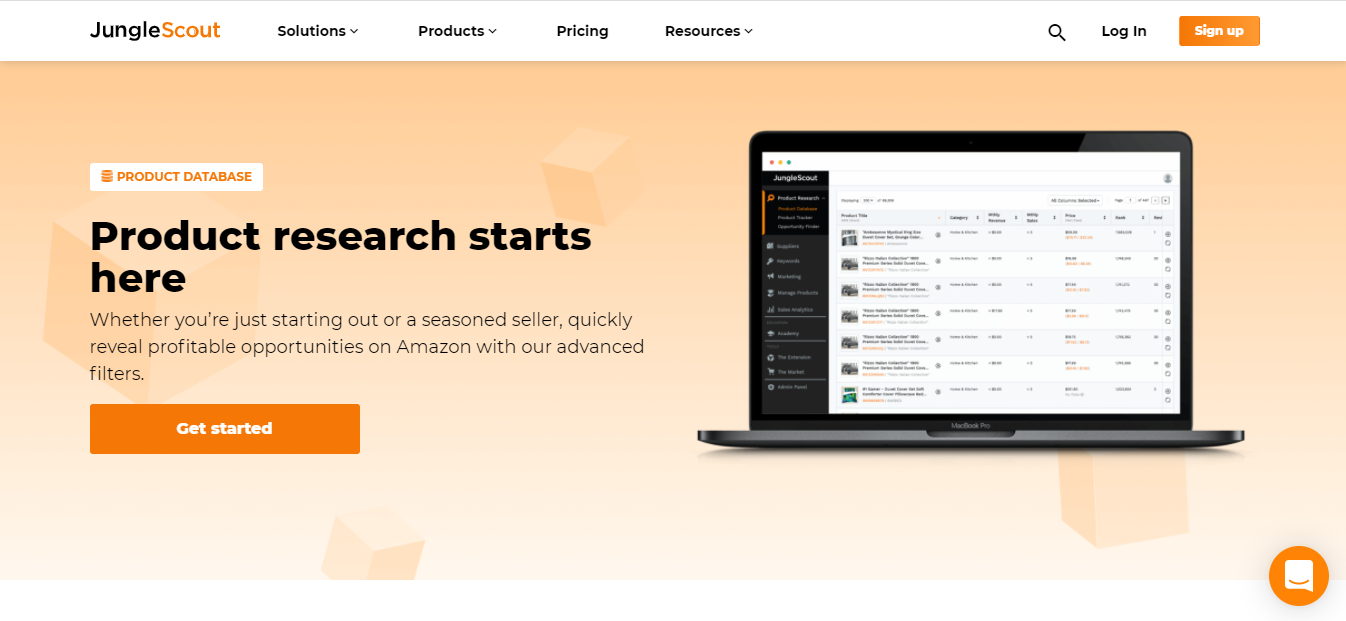 This feature offers you access to over 475 million Amazon products for sale from the marketplace catalogue. You can search through products based on attributes like price, BSR (best selling rank), or even keywords.
Better yet, you can go over preset filters that help you explore ideas that have high demand but bad marketing practices, good return on investments, and high demand, low competition products.
A simple search goes a long way, and you'll be surprised at the products that pop up. You can even further refine your search once the initial filtering is done.
This powerful Amazon product research feature has helped many Amazon sellers find products that they would have never even thought of selling.
Plus, its extensive evaluation tools also help you make informed decisions to further increase your chances of profitability.
The downfall of this tool is that, because it is so popular among newbie sellers, many of its users end up going after the same suggested products which increases the competition and pricing on many of the suggested products.
Most Popular Viral Launch Features
On the other hand, Viral Launch is geared towards advanced Amazon sellers who want to tap into a truly comprehensive resource. However, it comes with a price – both literally and figuratively. Viral Launch is very pricey and is also more complicated to use compared to Jungle Scout or Elite Seller.
Take a look at its key features below: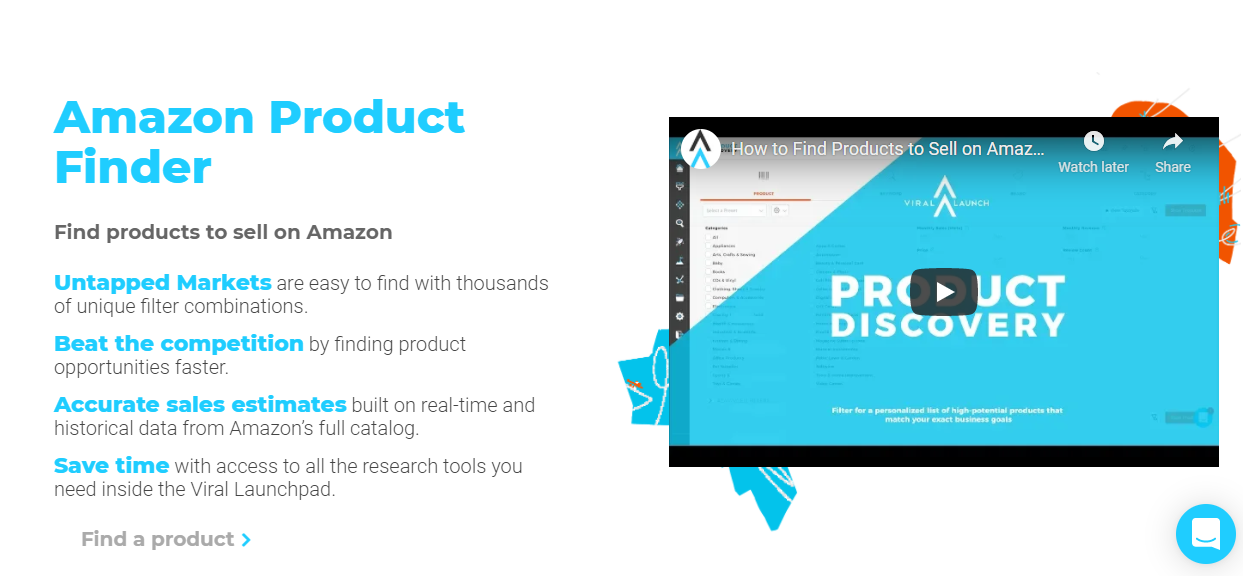 Amazon Product Finder
If you thought Jungle Scout's product database was powerful, you might be taken aback by what Viral Launch has to offer. However, while its results may be better compared to Jungle Scout and Elite Seller, it is also more complex to use.
In other words, it's the least user-friendly database of the three tools and requires excellent research skills to make use of its advanced filter options. Furthermore, if you're not familiar with how to use the filters, you won't get the best results.
Let's take a look at Viral Launch's most effective features.

Market Intelligence Chrome Extension
The platform's Chrome extension lets you tap into product market information without leaving the Amazon web page. It shows all relevant information right on your screen on a helpful and non-distracting window that you can close at any time.
The software uses granular data to give you the most accurate results possible – this way, you're not wagering profitability on half-baked research.
Most Popular Elite Seller Features
Reverse ASIN+
This feature gives you access to the top-ranking and most relevant keywords based on data from up to 20 competitors. This way, you're able to take their keyword strategy and apply it for a competitive edge.
With their Reverse Asin tool, you're also able to:
Discover new competitors
Reduce time spent on keyword research
Filter out irrelevant results
Outwit your competitor's keyword strategies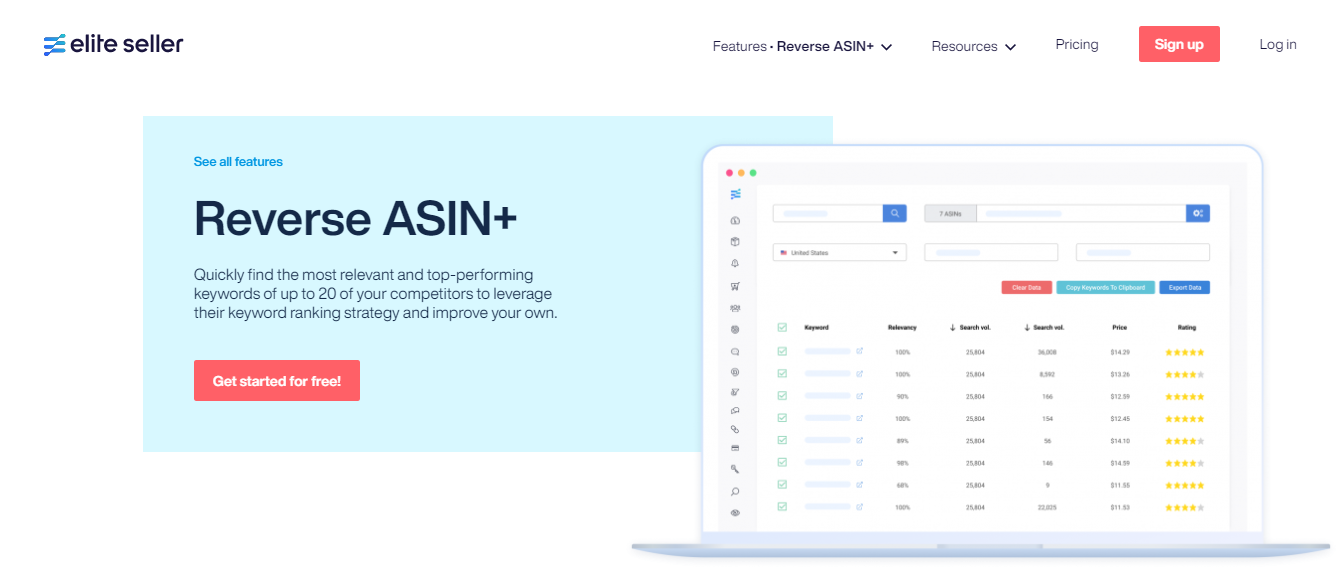 What makes Elite Seller So Special
The newest of all three Amazon FBA Seller Tools is Elite Seller. Owned and ran by some of the best minds in the industry, this tool combines the granular data of Viral Launch with the user-friendliness of Jungle Scout. It is designed for both newbie Amazon Sellers and advanced ones. Though on the pricier side, Elite Seller is designed to help scale your business effectively and efficiently.
Elite Seller recently had to make some changes to its software due to Amazon policy changes, so some people are skeptical of their software. However, it's crucial to note that their software has been completely revamped to abide by Amazon's policy changes.
Let's dive into their best features:
A User-Friendly Dashboard
The customizable dashboard is one of the features that makes Elite Seller so damn cool. It allows you to get a high-level overview of your company from a single or multi-account perspective which will speed up key business making decisions with its concise and accurate data-driven KPIs. These KPIs and other widgets act as shortcuts to the myriad of other applications on the tool, making your navigation and business analysis laser-focused.
Having consistent KPIs for calculating RoAS, TACoS, ACoS, and well over 100+ different data points, allows for driving important data for your business as easy as moving an app from your home screen on your phone and adjusting the settings to fit the data set that you find relevant.
The Dashboard even offers a PPC tab which provides the opportunity to truly see your advertising costs across the board, allowing you to review what products have the highest marginal sales and most sales in the last 30 days. Everything is customizable to your liking.
The ability to custom create your own unique dashboard per account or get creative with your KPI display can truly give you the competitive edge and allow you to outwit your competition every step of the way.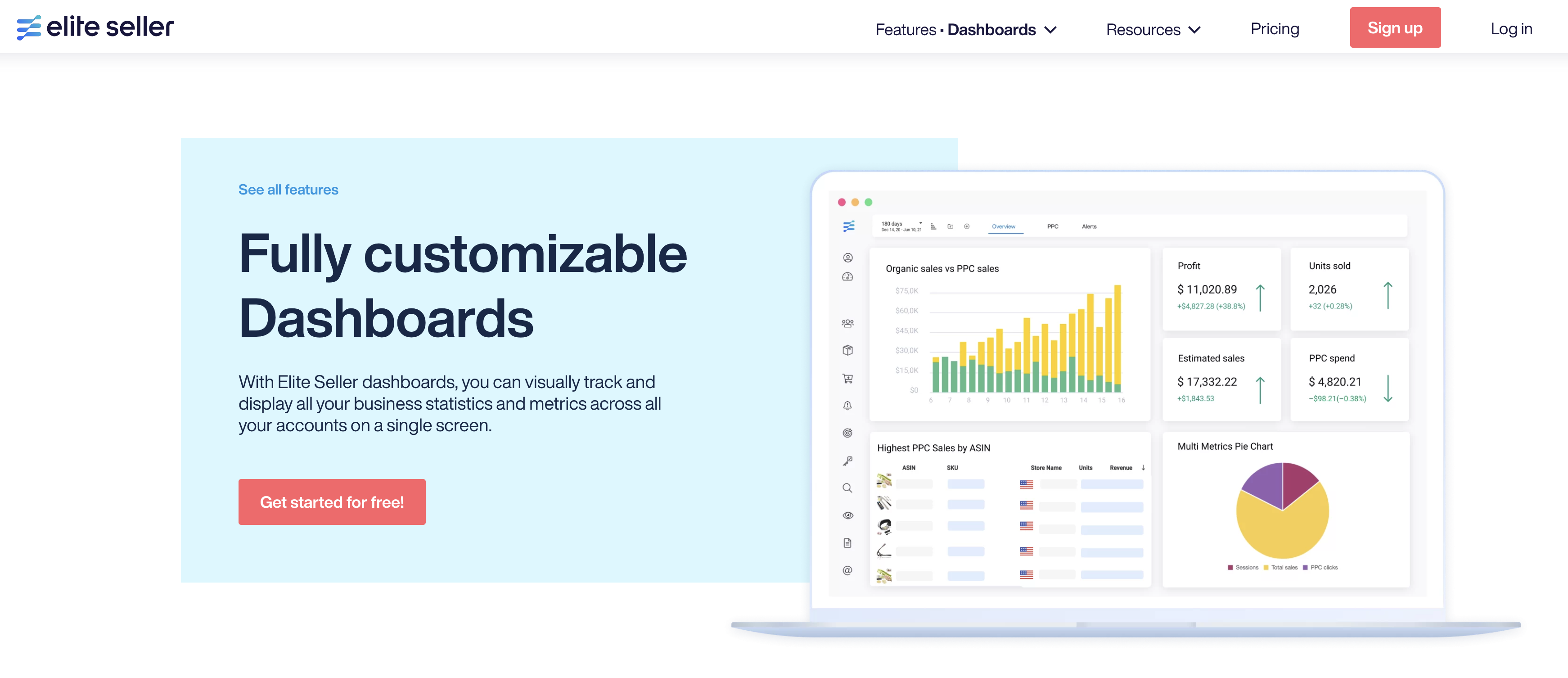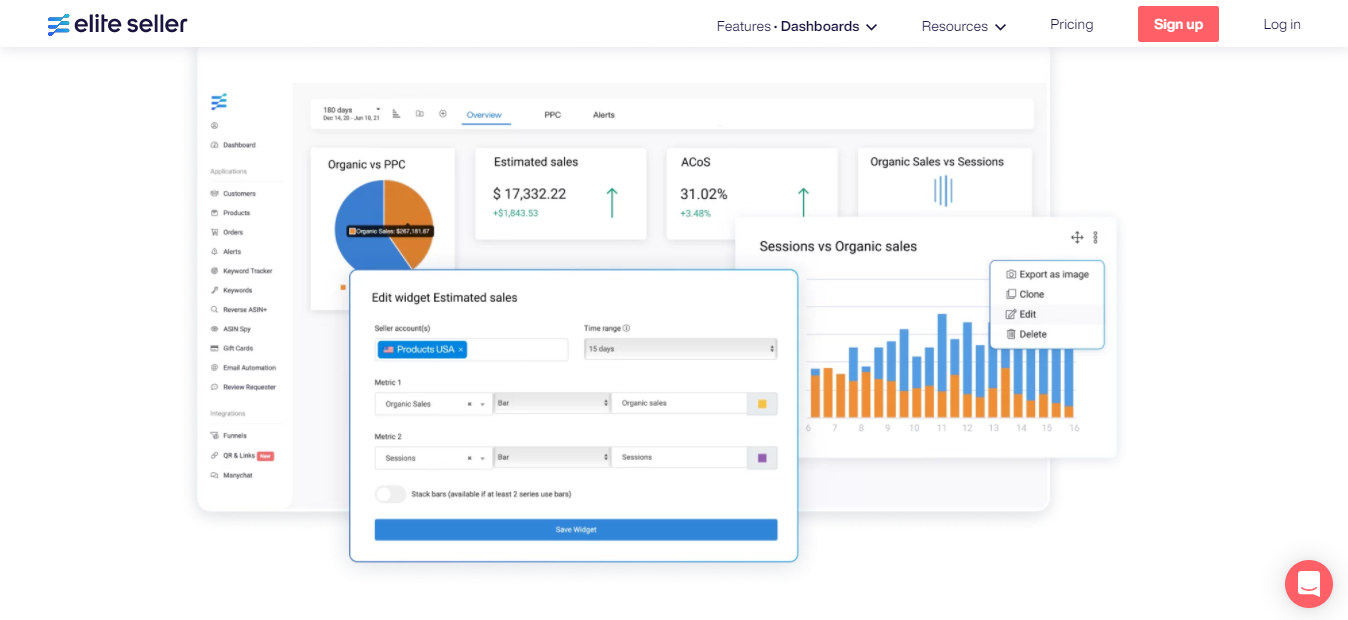 Keyword Tracker
Most Keyword Trackers swear they are accurate, but they are going by formulas that are built internally to do guesswork on what they perceive the correct position or placement
is on the target Keyword. With Elite Seller's Keyword tracker, you're never dealing with guesswork because Elite Seller pulls actual data directly from Amazon on a daily, hourly, or (in most cases) instant basis.
The auto-import feature of Elite Seller's KW tracker makes managing your accounts and products so much easier than constantly copying and pasting in your master KW list as the tool does the majority of the heavy lifting.
Not only are you able to track your keyword performance, but you can also track your competition in more ways than one. Simply getting a quick synopsis of how you compare on a KW by KW level with your competition will give you an understanding of what to focus on next.
The Keyword tracker for Elite Seller also will give you a 10-day competitive advantage so that your KW rank is getting pulled in every hour for the next 10 days which is crucial for tracking product launches or PPC campaigns. Pinning your most rankable KW to the top of each ASIN will save you time on hunting for them and if you want to let the auto tracker do the work, Elite Seller will actively scrape your listing to see what new KW's you're indexed for and what KW's you are ranked for on a rolling 30-day check, providing you the most up-to-date tracker on the market while sending you updates about it along the way.

Data Accuracy: Jungle Scout vs. Viral Launch vs. Elite Seller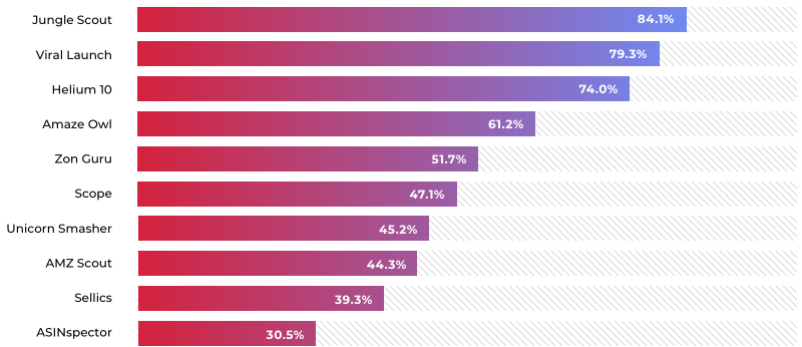 When it comes to data accuracy, it's hard to beat Jungle Scout. Recent data collected from the team's extensive case study shows that, while Viral Launch and Jungle Scout are nearly head-to-head on data accuracy, what matters is how you leverage the information you gather.
Furthermore, the research also doesn't say anything about Elite Seller – simply because it's the new kid on the block. That said, its creators stress that it's one of the most accurate Amazon product research tools in the market.
Pricing
When it comes to pricing and plan options, you can't go wrong with either Jungle Scout or Elite Seller. Their cheapest pricing plans are among the most affordable in the market – despite how powerful these tools are.
Take a look at their pricing plans below.
Jungle Scout Pricing
Jungle Scout offers both standard plans and packages. Furthermore, its pricing plans have two billing options. Its plans range from $29 to $84 a month – and they each come with a 7-day money-back guarantee to protect your purchase.
Viral Launch Pricing
Viral Launch is quite expensive, to say the least. However, it makes sense, considering it isn't geared towards new Amazon sellers or startups. When you opt for the annual billing option, you're given a 2-month discount, which is a great way to save money in the long run.
Their plans range from $69 to $199 a month, but its users declare it's worth the price.
Elite Seller Pricing
Elite Seller offers 5 pricing plans ranging from $27 to $597 a month, which is one of the reasons it is geared to both new and veteran sellers. The higher plans may seem outrageous, but they swear by the ROI of their program.
Furthermore, the platform also offers a customizable Agency plan wherein you need to get in touch with their sales team to get a custom quote.
Integrations: Viral Launch vs. Jungle Scout vs. Elite Seller
Integrations can be a dealbreaker for many Amazon sellers. Depending on your needs, you'll want to invest in a tool that can integrate seamlessly with your other programs. You'll be pleased to know that all three platforms offer seamless integrations.
That said, only Viral Launch and Jungle Scout have Chrome Extensions. On the other hand, Elite Seller uses Zapier to integrate with other apps. If you want to cut back on third-party applications and additional billing, you may want to look into Viral Launch since Jungle Scout charges extra for the extension.
Support And Resources
All three tools offer excellent round-the-clock customer support. All 3 teams have great reviews regarding fixing issues in a timely fashion and providing guidance and help when needed.
User Experience / Ease Of Use
While Viral Launch may be a tad harder to use, all three Amazon integrated tools are user-friendly once you get the hang of them. When in doubt, you can always access tutorials, their help center, or contact customer support to help you engage with their tools in a seamless manner.
Expertise & Experience
Any newbie or beginning Amazon seller will love spending time on the Jungle Scout and Elite Seller platforms. They're streamlined and uncomplicated, so you can navigate all the features quickly without confusion or frustration.
That said, Viral Launch is better suited for sellers who have more experience or background working with Amazon seller tools. Otherwise, you might find yourself not utilizing its powerful tools.
Affordability
When it comes to starter plans, Elite Seller is the cheapest. However, it can also be the most expensive when and if you upgrade our plan. That said, all three tools are within a reasonable price range for the feature set they offer. However, you may want to scale your Amazon business first before subscribing to Viral Launch, as its cheapest plan is still quite expensive.
Amazon Sellers Testimonials And Reviews
Below, we've compiled the Trust Pilot reviews for all three platforms.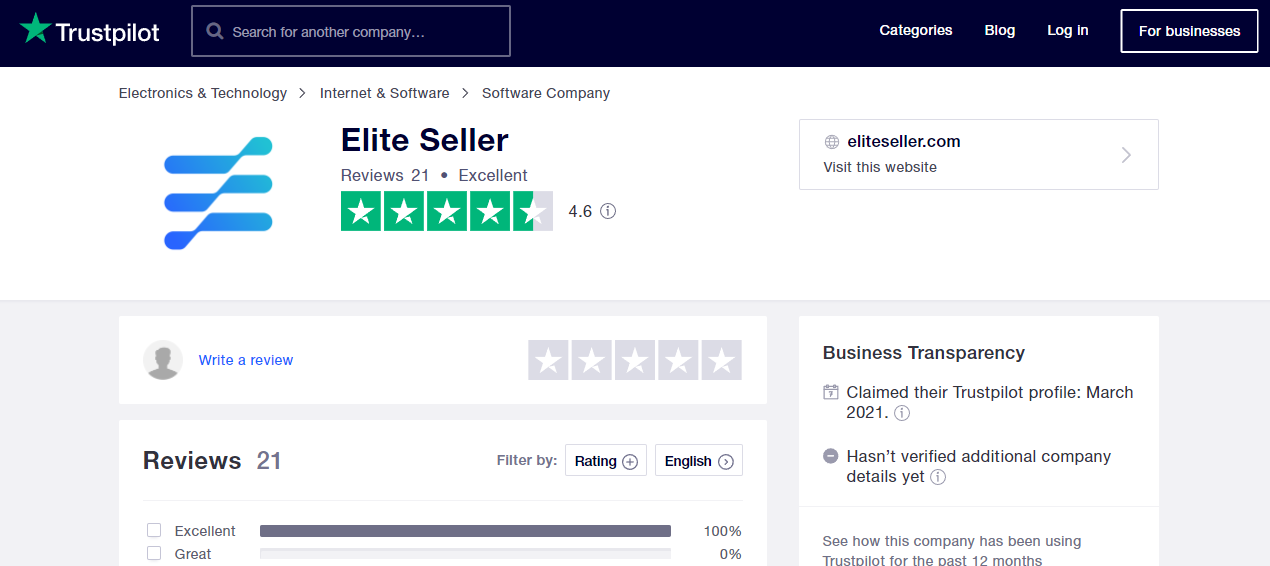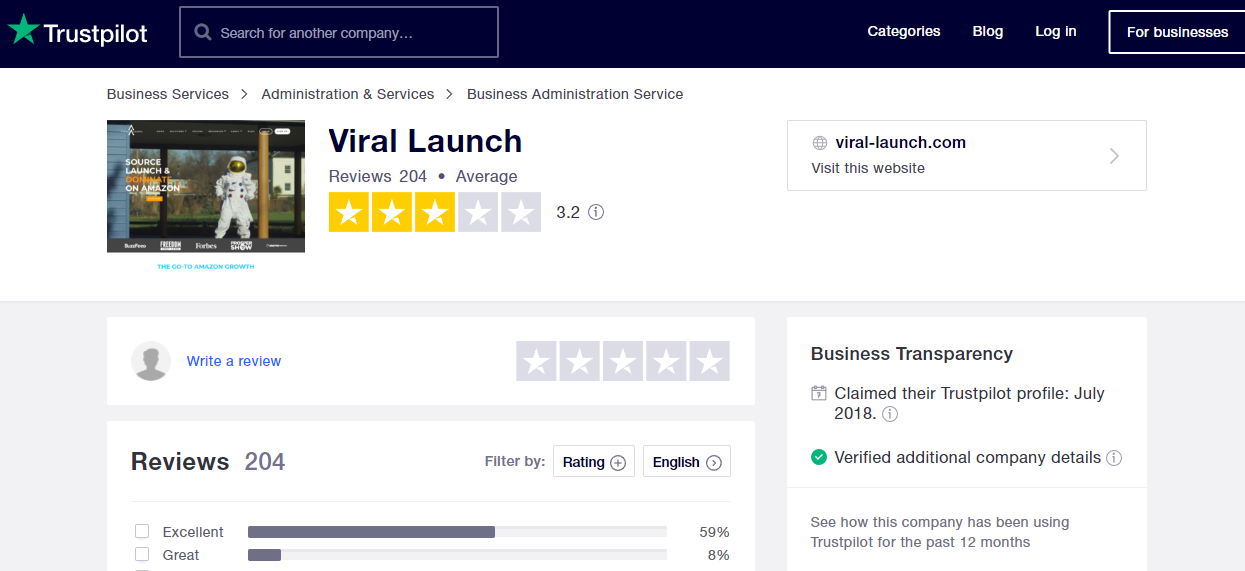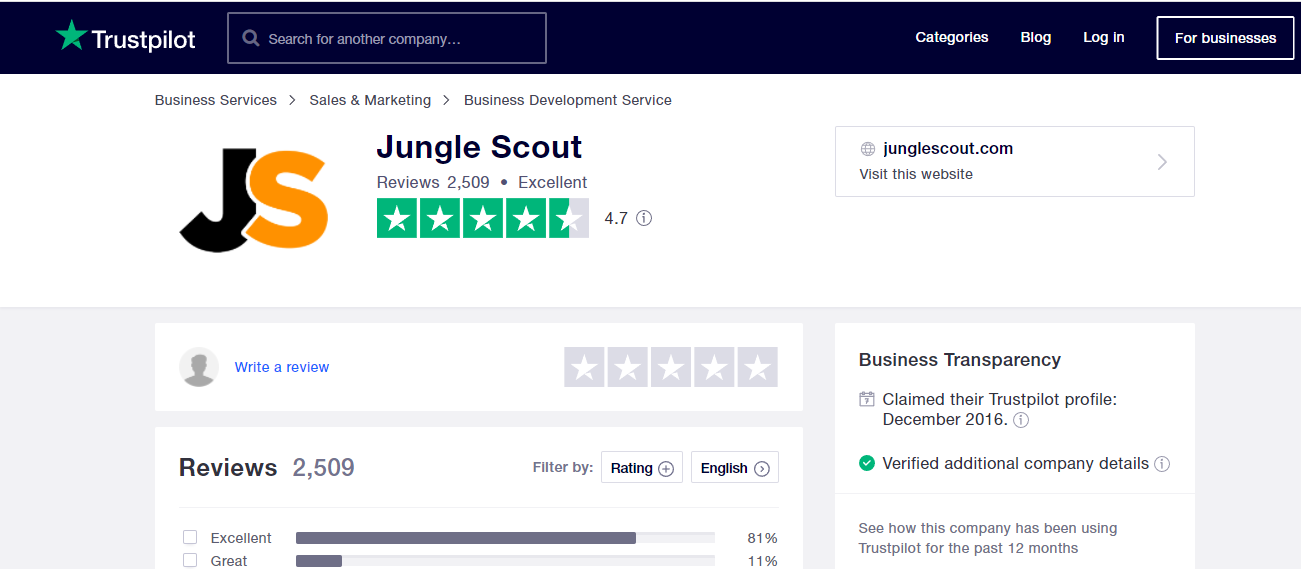 How To Choose Between The Tools
Ultimately, it all boils down to what you want to accomplish. As an Amazon seller, you know your business needs, so choose based on your comfort level. Make a list of everything you need your Amazon FBA automated tool to do and the ROI you expect based on pricing, then make a decision.
Conclusion
Choosing the right tool for your Amazon business isn't a decision you should make lightly. There are many deciding factors in choosing the right automated software tool for your business. Factors like pricing, features, accuracy, accessibility, and user-friendliness are very important.
All three tools listed in this article are great in their own respective ways and you probably can't go wrong with any choice.