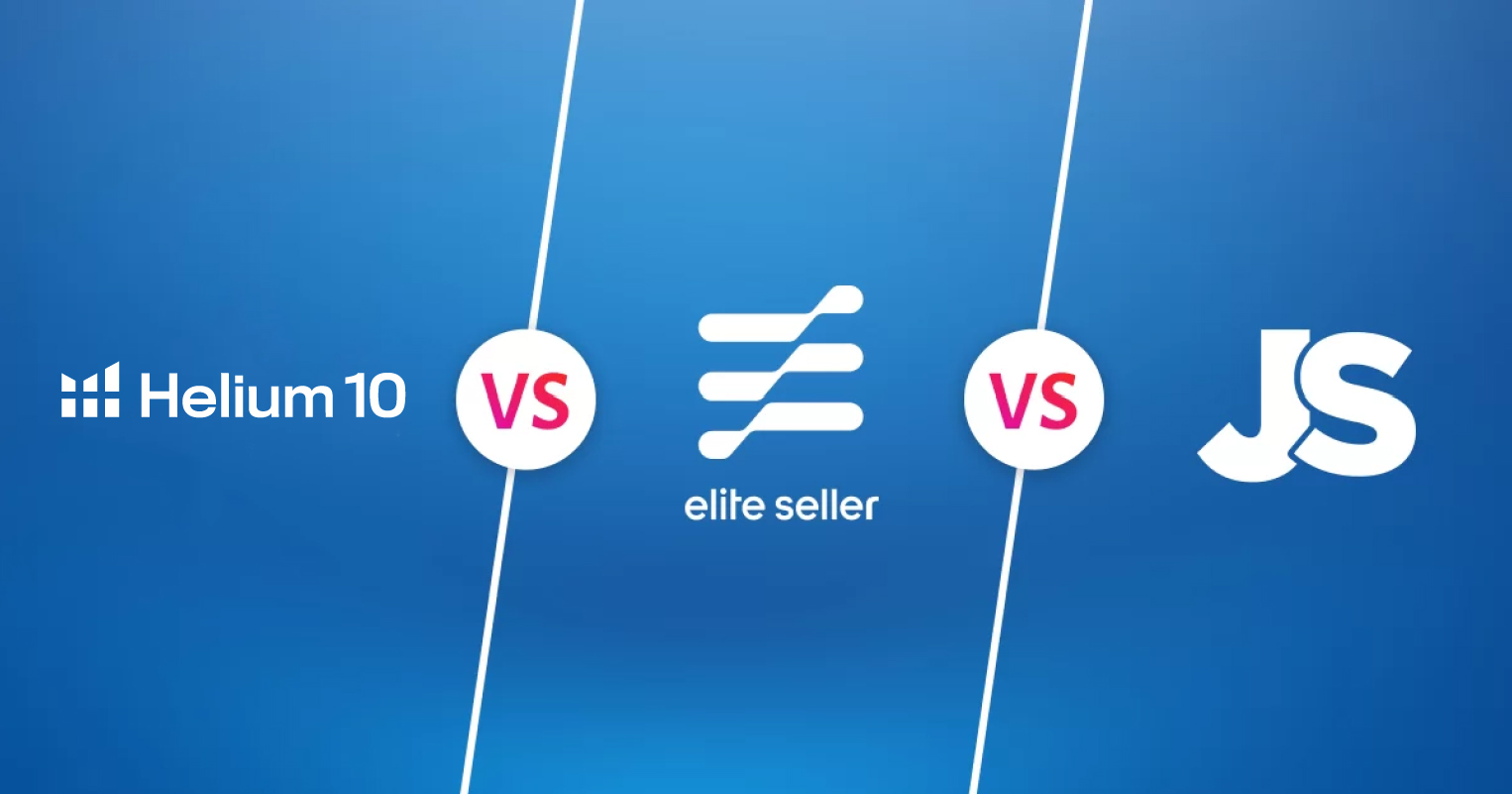 Helium 10 vs Jungle Scout vs Elite Seller
Jungle Scout, Helium 10, and Elite Seller are three of the best tools for researching profitable product ideas, launching, and selling on Amazon. All three provide access to accurate sales data, inventory levels for sellers, and other helpful information like prices, demand trends, estimated revenue potentials, and so forth. But which is the better option?
In this Helium 10 vs Jungle Scout vs Elite Seller comparison, we dive deep into everything you need to know before choosing the one for your business. Additionally, you may also take a look at this Jungle Scout vs Viral Launch vs Elite Seller review to decide amongst them.
Features: Jungle Scout vs. Helium 10 vs. Elite Seller (Tabulation)
Over half of Amazon sellers use tools like Jungle Scout, Helium 10, and Elite Seller. All three offer tons of functionality that help you make efficient business decisions, like choosing the right products and launching them the best possible way.
But how do they stack up against each other? Take a look at the chart below for a quick Helium 10 vs Jungle Scout feature comparison.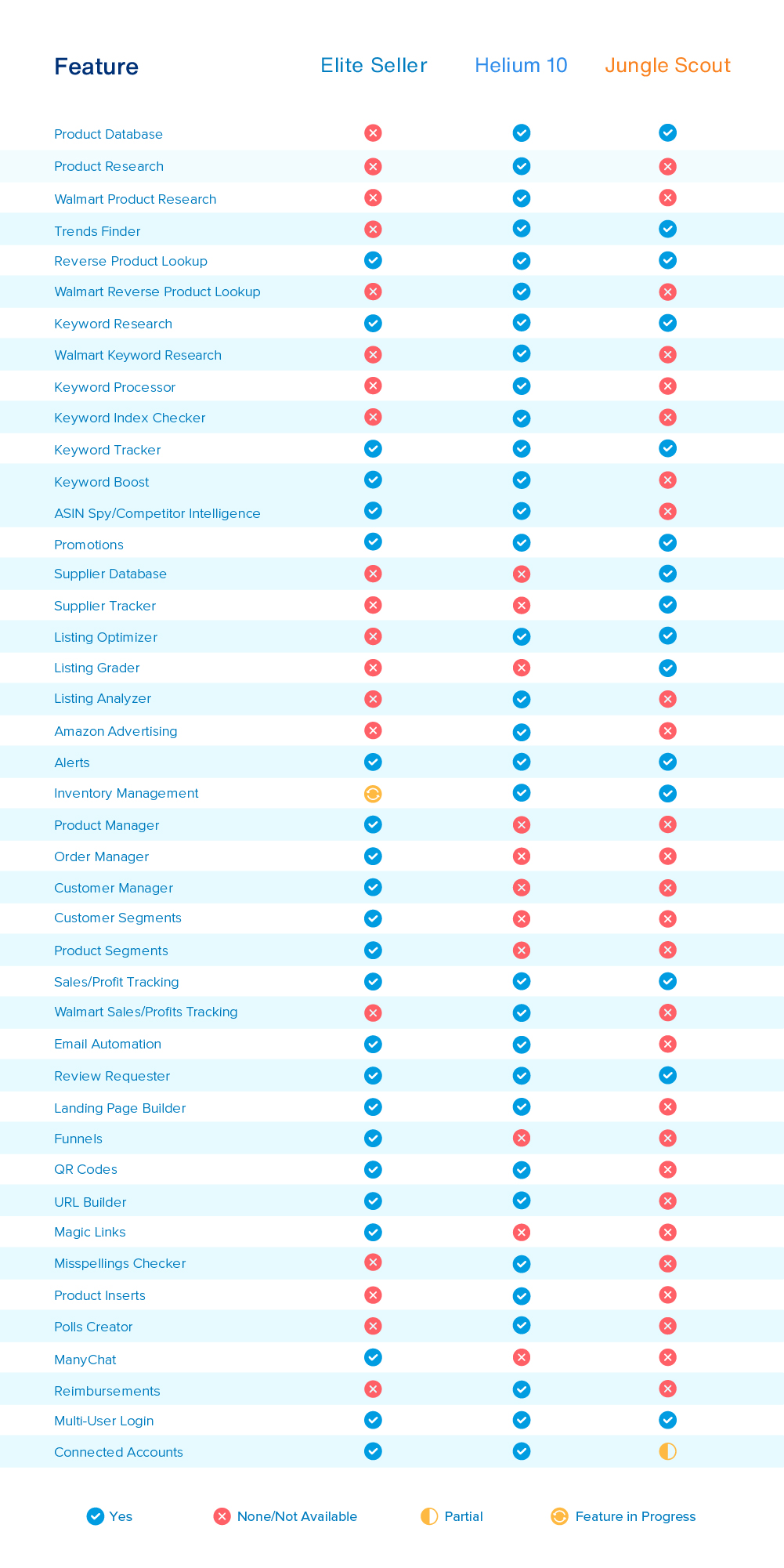 There's more to these three tools than the few features listed above. Let's take a closer look at their key features below.

Most Popular Helium 10 Features
To say that Helium 10 offers impressive functionality is an underestimation. Over 600,000 Amazon sellers use the platform to perform product research, use relevant keywords, URLs (using an Amazon link shortener), as well as optimize product listings.
Its most popular features include: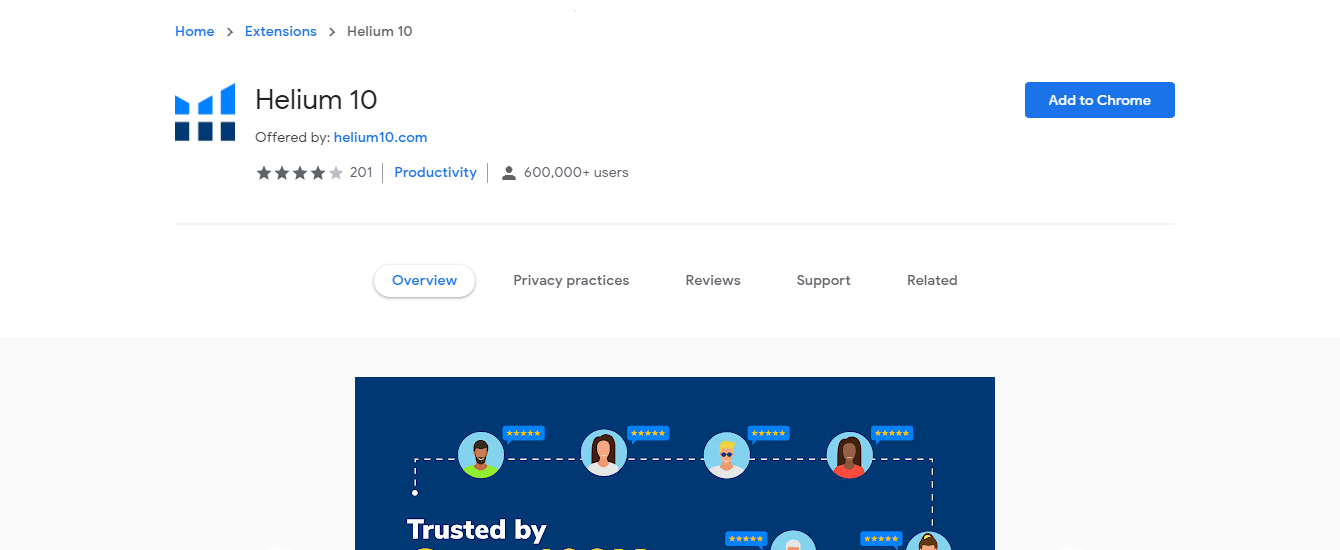 Chrome Extension
Helium 10's browser extension collects and presents valuable data such as:
Net profit
Average sales
Average rating
Average price
But that isn't all. The Chrome extension also comes with a handful of tools that make it easier for you to track profitability, competitor inventory levels, and negative reviews on competitor pages.
Basically, it helps you streamline your business by allowing you to make decisions factoring in your inventory, product choices, and company processes at a glance.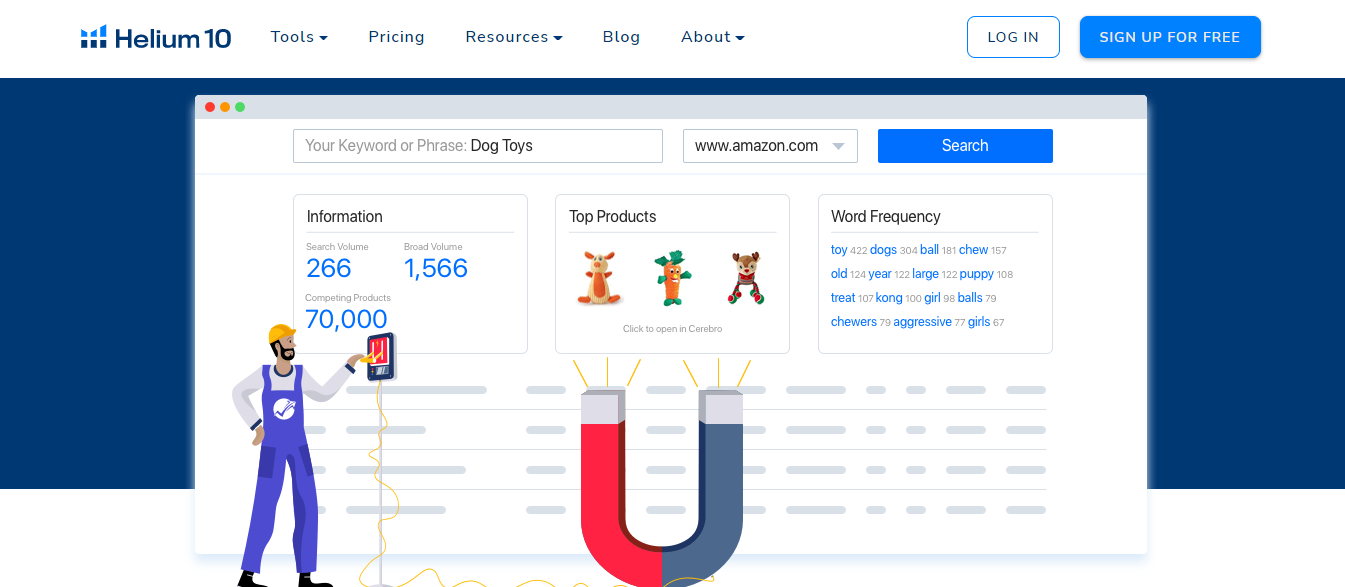 Helium 10 Magnet
The largest Amazon keywords database in the industry, Helium 10 Magnet, is one of the most popular and reliable tools for keyword research for sellers to optimize their Amazon listing.
What's even more impressive is that this Amazon keyword rank tracker can recommend relevant keywords that you might have not even considered initially.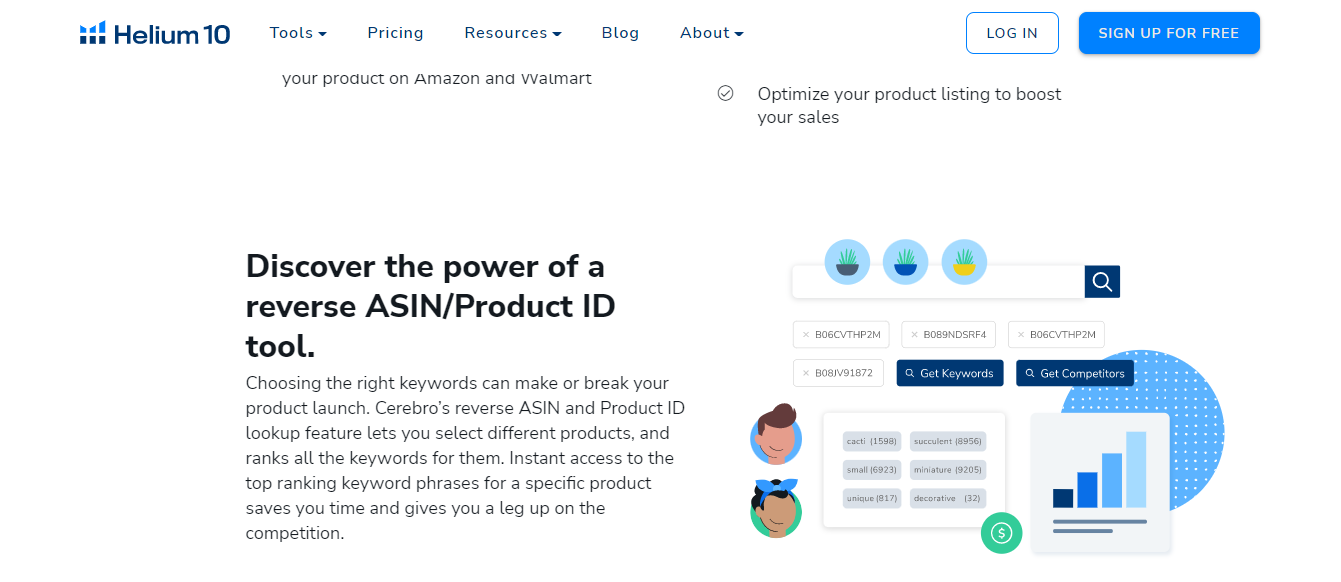 Helium 10 Cerebro
Cerebro lets you add any ASIN and then find all keywords that the particular ASIN ranks for. Do this to for your top 10 competitors and you have the entire matrix on where your product needs to rank
Most Popular Jungle Scout Features
Jungle Scout is more commonly used to find profitable products to sell on Amazon. Its excellent feature set helps sellers source relevant products ahead of trends that are currently in demand.
Jungle Scout doesn't have as many active users as Helium 10. Still, with around 30,000 customers, it's one of the best Amazon tools to use when you're looking for profitable products.
Its key products include: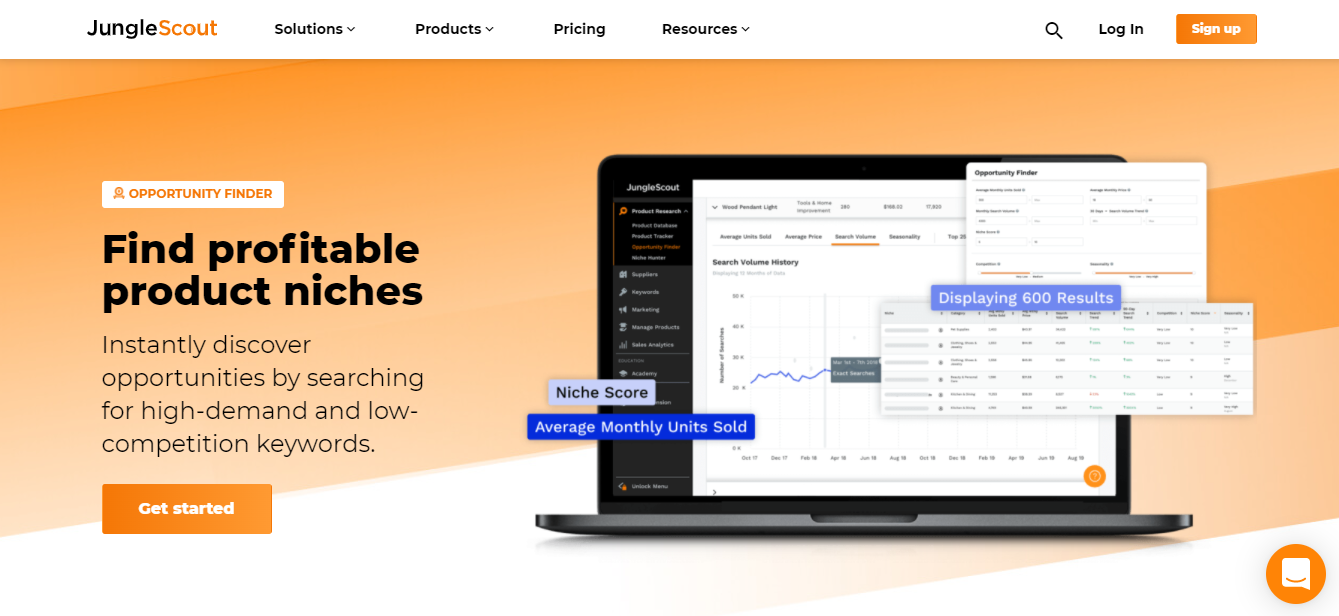 Opportunity Finder
The Opportunity Finder is a powerful feature you can use if you're just getting started as an Amazon seller. Its main selling point is that it helps you keep an eye on new trends and high-value niches.
This Amazon product research tool helps you find accurate keywords by setting parameters like product categories, LQs, competition, and opportunity scores. This way, you don't have to scroll through irrelevant results.

Chrome Extension
This handy feature makes it more convenient for you to track data such as daily sales, opportunity scores, and prices without leaving the Amazon website.
Its sleek and convenient user interface won't clutter your screen. And, since you do not have to leave the Amazon platform, you can browse competitors and manage your store more quickly.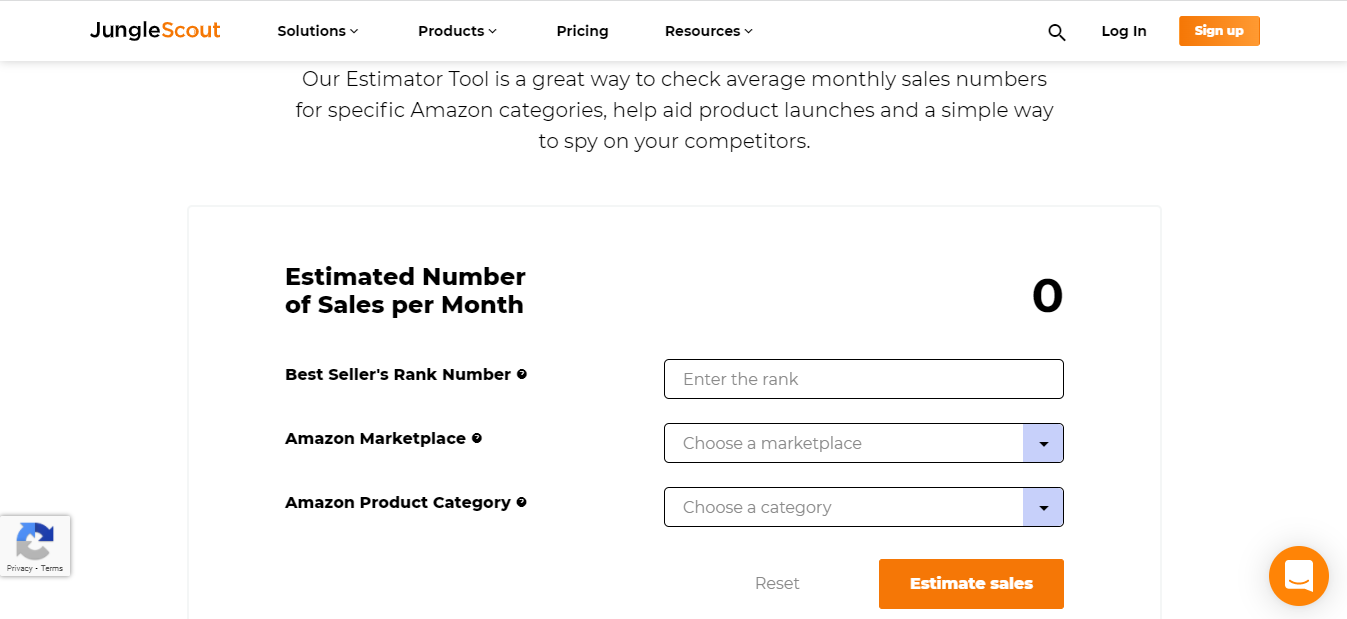 Sales Estimator
This feature helps you track how well specific Amazon categories are doing. It shows you the average monthly sales of certain categories to help you choose the most profitable niches and products.
Furthermore, it can be used to streamline product launches and keep tabs on how well your competitors are doing on the platform. Best of all, it's completely free.

Product Tracker
The product tracker tracks and analyzes product data to give you an accurate overview of sales. The tool tracks and presents data over a specific period to show you how profitable a product really is.
This way, you're able to see any dips in sales and project the best time to sell certain products. This powerful feature can also show you specific data like:
Daily sales performance
Average daily revenue
Average price

Most Popular Elite Seller Features
Elite Seller, an all-in-one Amazon seller suite, helps you manage your dashboard, automate your sales process, and research the latest product trends. While it's not as sought-after as the other two options on this list, it's certainly gaining popularity with mostly 5-star reviews on Capterra and Trustpilot.
Elite Seller's main selling point is that it gives Amazon sellers a powerful all-in-one tool that helps them run successful 7- figure businesses by providing granular data as well as accurate and frequently updated alerts.
Its key features include: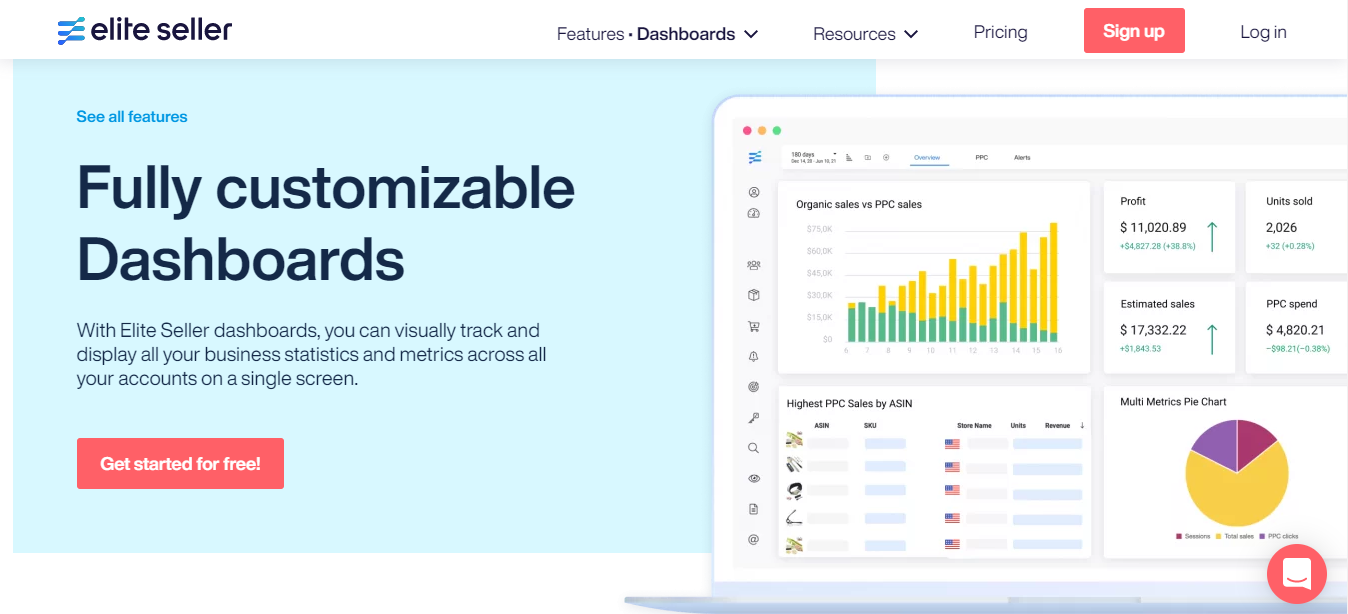 Tailored Dashboard
One of the most notable features that Elite Seller offers is a fully customizable seller dashboard. Here, you can add widgets and place them where you need them. This way, the metrics you want to keep track of are exactly where you need them.
Its drag and drop layout is incredibly easy to navigate, which means you spend less time learning the ropes and more time working on your business. Furthermore, Elite Seller also offers plenty of template options to get you started.
Here's what you can do with the customizable dashboard:
Create multiple tabs
Create your own widgets, charts, graphs, and KPIs with our various data point options
Unlike Jungle Scout and Helium 10 which focus more on helping new Amazon sellers gain a footing on the platform, Elite Seller gives you the tools that 6 to 7 figure Amazon sellers use.
New widgets are primarily categorized according to metrics. There are multiple metric options that help you keep a close eye on every aspect of your Amazon store.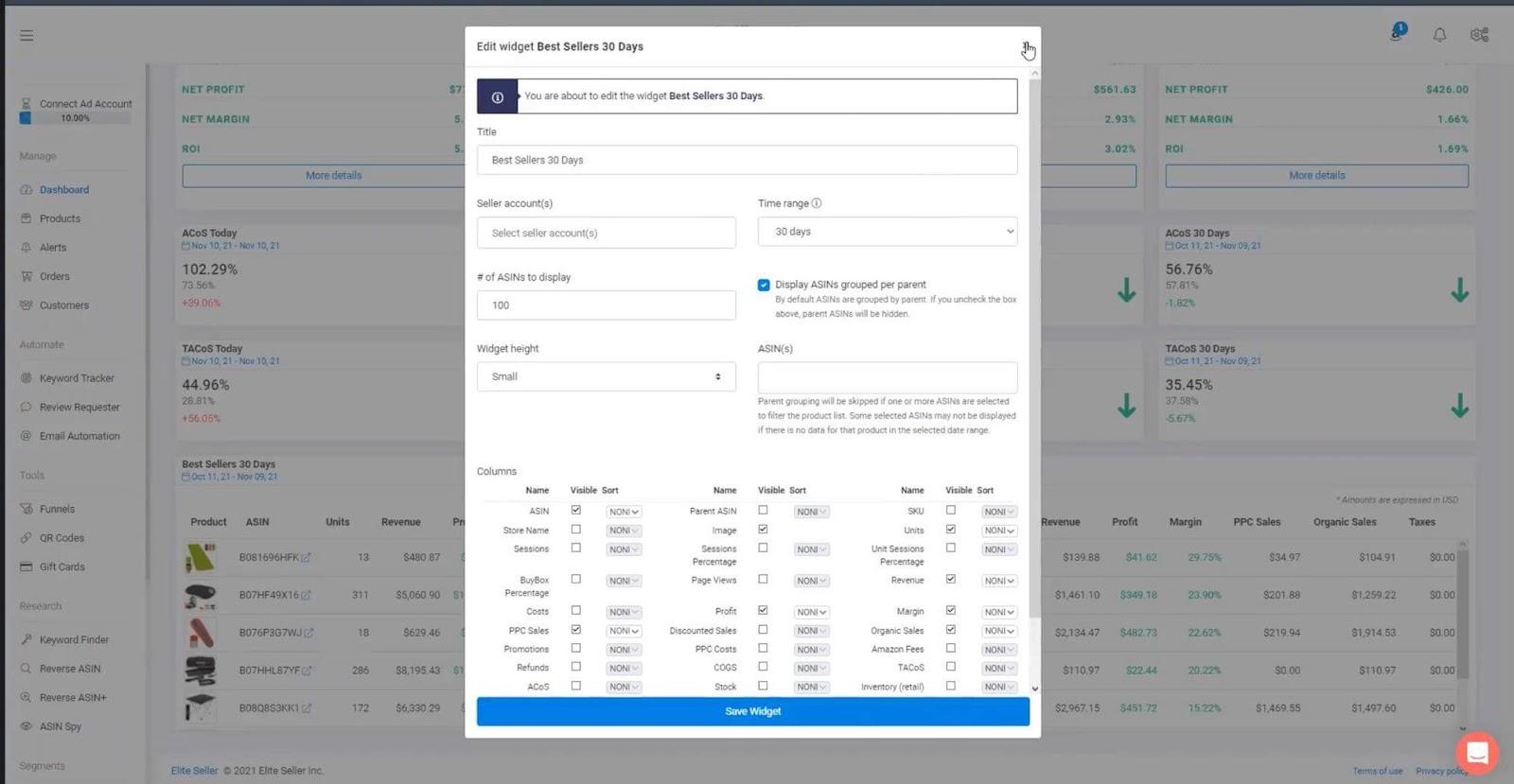 Furthermore, the tailored dashboard allows you to define the alerts and metrics you wish to see at any given time.
This includes a detailed P&L breakdown – which you can set to display based on your chosen timeline.
Management Tools
Elite Seller helps you manage customers, products, and orders all in one dashboard and helps you track data such as:
Profits
Margins
ROI
Promo codes
Feedback and reviews
Discounts
Customer information
ASINs
SKUs
Prices
Returns
Date ranges
Orders
Customers
Granular metrics such as TACoS and more
Furthermore, you'll also be able to create QR codes and smart links that you can use for your packaging and Amazon inserts. You can even update your links as frequently as you want without changing your QR codes.
Its management tools also allow you to set alerts based on custom triggers that you set. These alerts are tracked in almost real-time and provide accurate information.
You can even set a do not disturb period depending on how regularly you want to be alerted. This helps give you a clear and detailed analysis of your products, their performance, and any actionable alerts that may need your immediate attention.
Automation Tools
Streamline your entire business by automating menial – but necessary tasks like requesting reviews and creating email sequences. Here you're able to send accurate review follow-ups by setting filters. You can even generate email sequences with A/B testing to improve open rates.
Furthermore, you can also create TOS-compliant review requester bots and email automation. You can set automation for:
Refunds
Review requests
Customer follow-ups
Shipped emails and more
An added benefit is that you can view your campaign data on an intuitive dashboard, as seen below.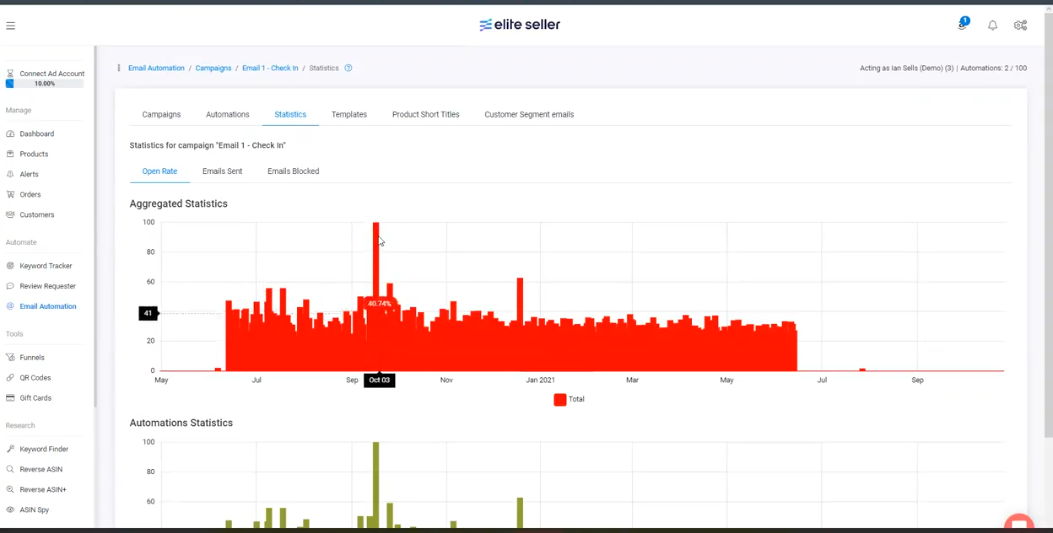 The layout makes it easier for you to find relevant metrics such as bounce and open rates.
Research Tools
The keyword auto tracker is one of the most powerful features that Elite Seller offers. With it, you can automate your keyword searches, so you don't waste time scrolling through various options.
Its keyword research tool is one of the most accurate in the industry. You can use it to look up:
Keywords
Trends
Competitor data
And more
One of the more interesting research tools you'll come across is the auto tracker feed that shows you the keywords you are ranking for. It even gives you a granular look at data, including low-hanging and long-tail keywords that you can use to improve your strategy.
Not only that, but the reverse ASIN tool lets you track anywhere from 1 up to 20 ASINs at a time. And like every other metric on the platform, you have granular data within reach.
Order Tracking
One of the coolest features that Elite Seller has to offer is its granular order and customer tracking dashboard. This menu gives you an overview of all your orders and customer information.
But that's not all. When you click on each order, it opens a hovering page that can show you a complete P&L breakdown from each sale.
Funnels
A true all-in-one Amazon seller suite, Elite Seller, comes preloaded with multiple landing page templates that you can use as funnels.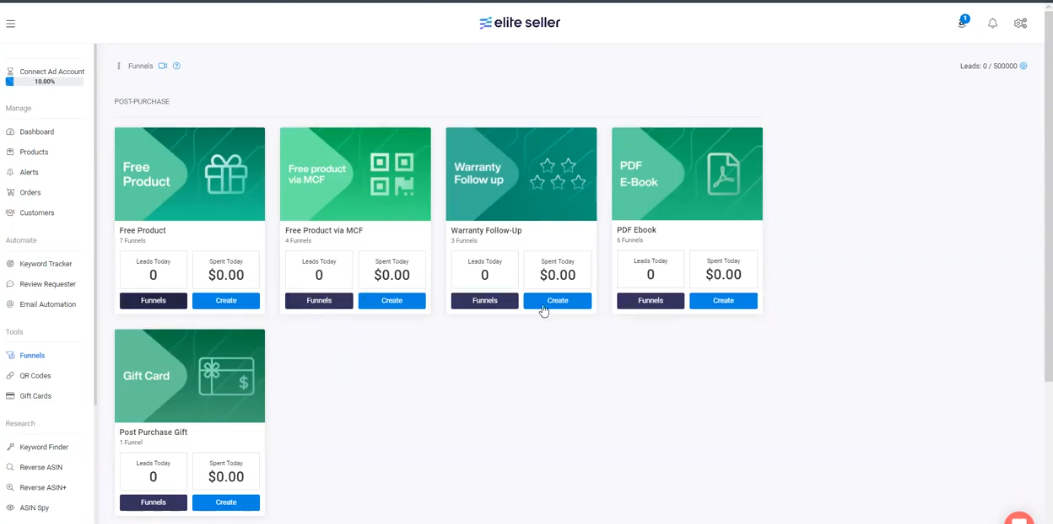 The templates are designed by professionals and incredibly easy to customize. You can set your own logo, make changes to the text, and select a custom color scheme.
As you can see below, the layout is pretty straightforward, and your audience shouldn't have difficulty navigating your landing pages. This also means higher chances of conversion.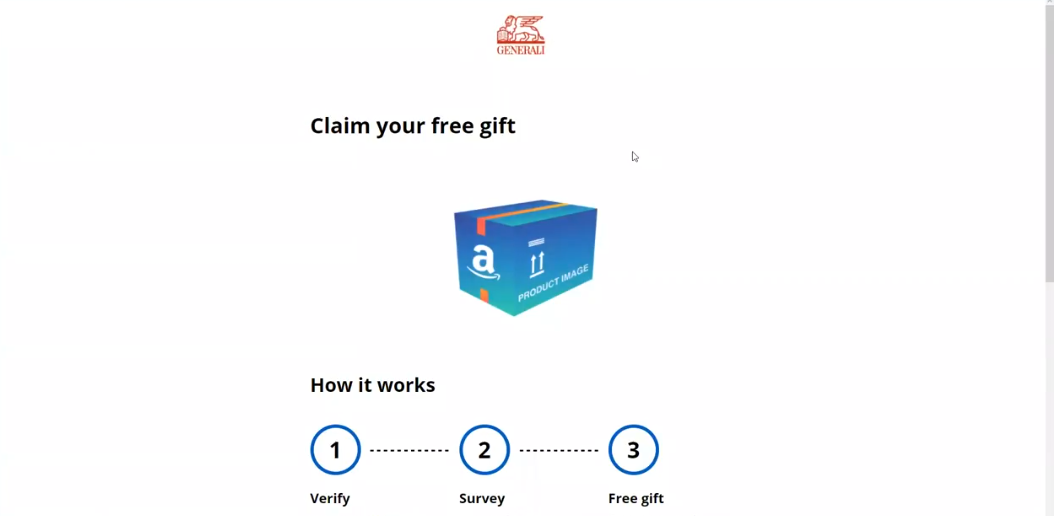 Data Accuracy: Jungle Scout vs. Helium 10 vs. Elite Seller
Jungle Scout is nothing if not thorough. Based on their case study data, Jungle Scout outperforms Helium 10 when it comes to data accuracy each time. That said, the difference isn't that substantial.
Many sellers can still find great results on Helium 10 even though it may not be as accurate as Jungle Scout. And since Elite Seller is what you could call the new kid on the block, there's not much data to present here.
But with Elite Seller's countless glowing reviews and impressive research results, it's said to be the most accurate Amazon SEO tool.
Unlike other platforms that only throw up metrics and results seemingly out of thin air, Elite Seller shows the formula it uses to calculate each metric. This way, you can monitor each metric and cross-reference it with your own research to ensure everything is correct.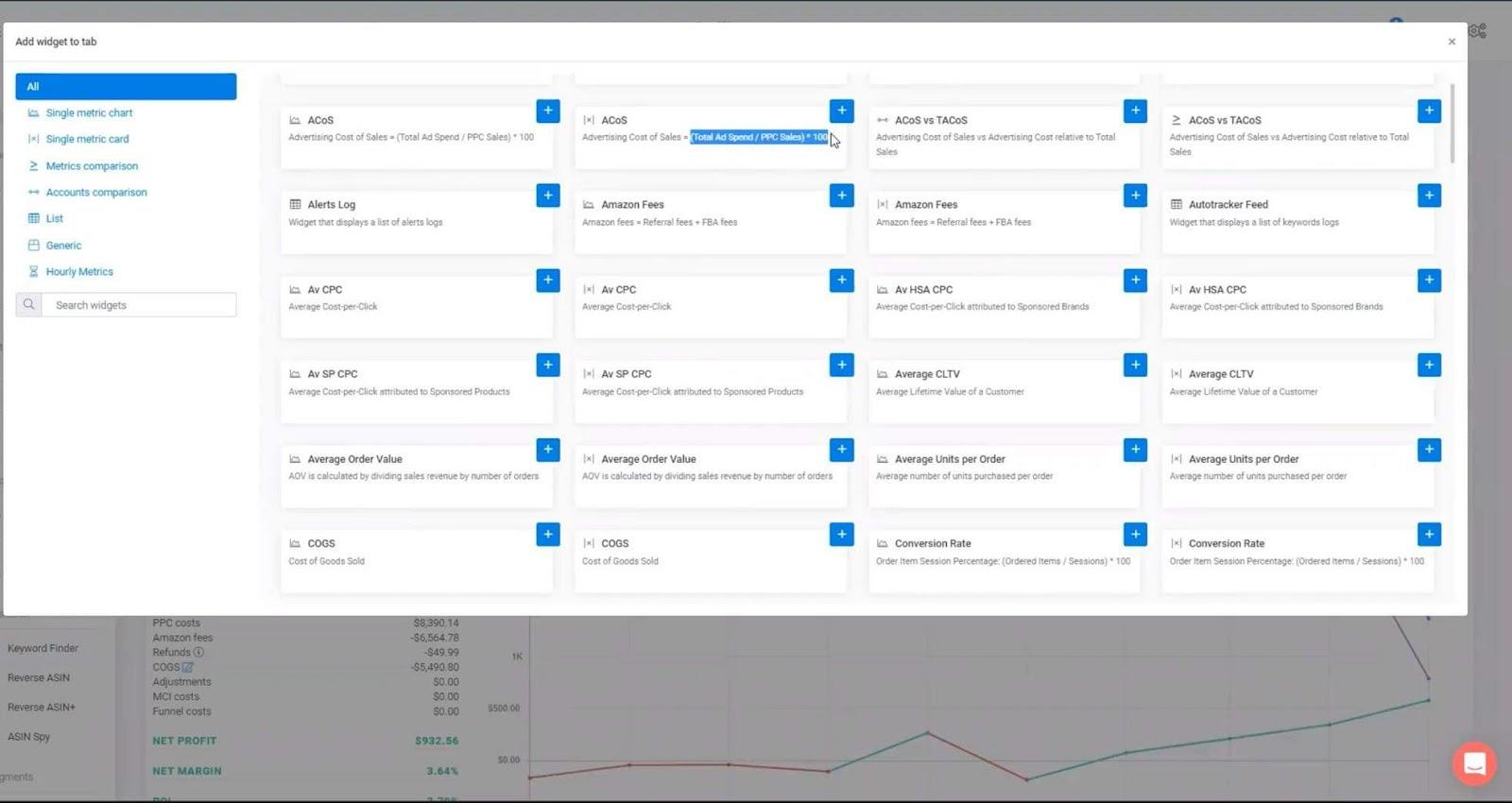 Pricing
When it comes to pricing and plan options, all three platforms vary greatly. It really depends on how much you're willing to spend and how convenient you want billing to be. Let's take a closer look below:
Jungle Scout Pricing
The platform offers a 7-day money-back guarantee for all of their pricing options. You can choose from one of three standard monthly or annually-paid billing plans or their packages.
Standard plans range from $29 to $84 a month, while their packages start at $189 for a 3-month suite plan.
For a more detailed look at their pricing structure, take a look here.
Helium 10 Pricing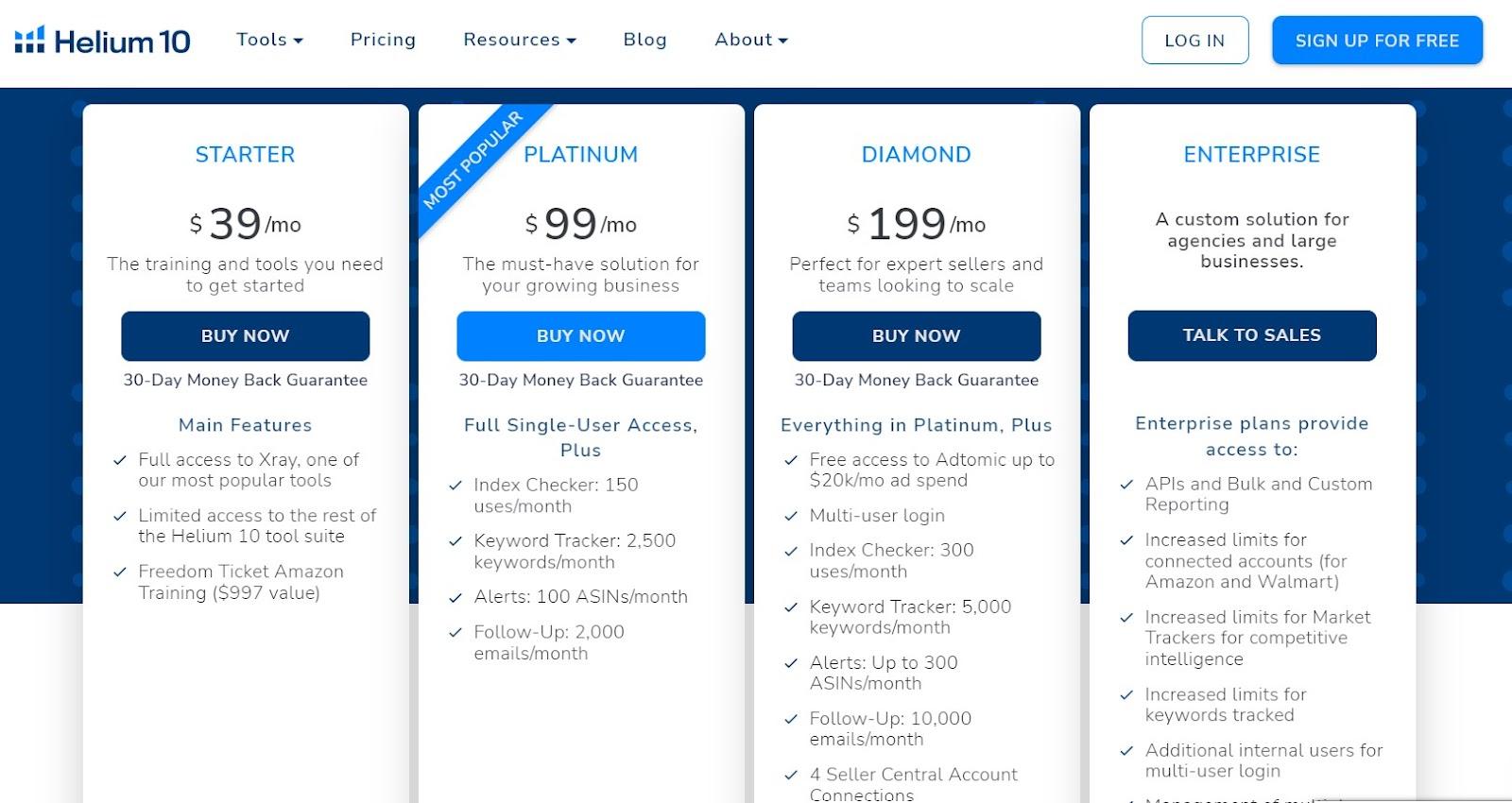 Helium 10 allows you to sign up for free. Like Jungle Scout, you can choose between annual and monthly billing. Prices range from $39 to $199 a month. With their Enterprise plan, you can connect with a sales representative to tailor an offer that suits your needs.
You can take a closer look at their pricing options here.
Elite Seller Pricing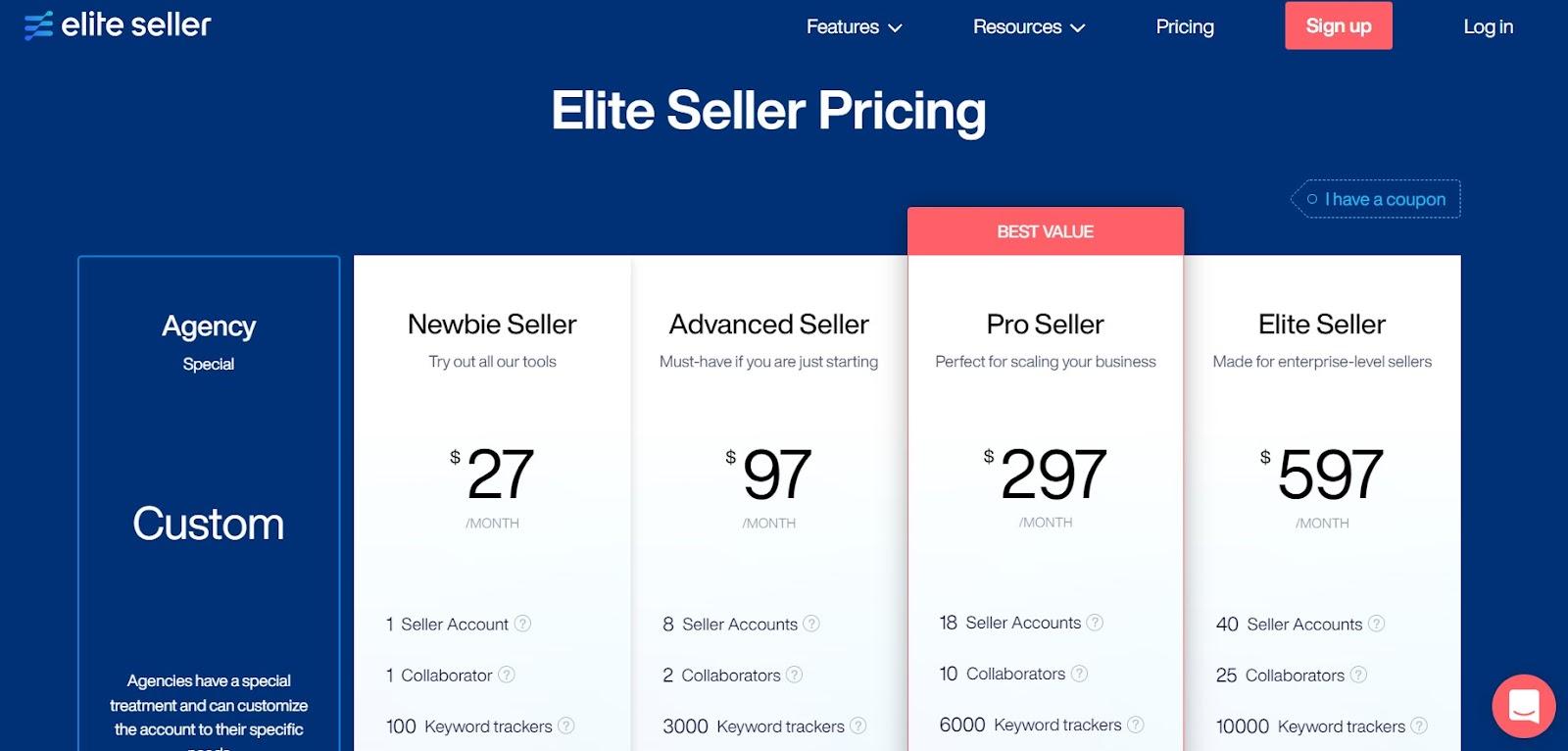 The software offers five pricing plans. You can even give it a try for 14 days without any charges. Pricing ranges from $27 to $597 a month. Furthermore, the Agency option works similarly to Helium 10's Enterprise plan.
To get a custom quote, you need to get in touch with their sales team. For detailed information regarding their pricing, take a look here.
Support & Resources
All three tools offer excellent support. Jungle Scout has a team of over 20 representatives working around the clock to provide 24/7 support. While it may be more convenient for immediate concerns, Helium 10 and Elite Seller aren't far behind in terms of customer support either.
Furthermore, all three tools offer excellent free resources to help users and anyone else make the most out of their time. You can choose from various courses, video training, and live classes to figure out how to make the most out of them.
User Interface/Ease Of Use
We applaud all three tools for how well designed their respective UIs are. Each is easy to navigate and can be used by beginners with no prior experience.
Amazon Sellers Testimonials And Reviews
Helium 10, Jungle Scout, and Elite Seller all have impressive reviews on Capterra. Let's take a close look below.

Jungle Scout scores an impressive 4.7

On the other hand, Helium 10 has a 4.6 rating with 73 reviews- which isn't far off.

Lastly, Elite seller rates an astounding 5-stars despite having fewer reviews than the other two.
How To Choose Between The Tools
Your decision to choose either of the three tools will depend on your answer to three questions:
What you want your tool to accomplish
How much you're willing to spend
What features do you need the most
Each tool is better suited for a different kind of Amazon seller. To make the right decision, you need to focus on your goals and expectations.
Helium 10 is suitable for anyone who wants to perform in-depth product optimizations and efficient product launches.
Meanwhile, Jungle Scout is the perfect tool for any budding business owner who wants access to the most accurate product data available.
Last but not least, Elite Seller is a good choice if you're looking for an all-in-one tool that streamlines every aspect of your seller journey.
Elite Seller focuses on bringing cutting-edge seller tools to your fingertips, even if you are a newbie. This way, you get to understand and use the same functionalities that top-performing Amazon sellers use instead of wasting time learning the ropes.
Conclusion
Amazon sellers have many options when it comes to picking the perfect tool. Each program is designed to fulfill a different purpose. But whichever you choose, you can rest easy knowing that you are selecting the best option possible.
If you're ready to start dominating the ranks of the Amazon sellers forum with one of these tools, visit us for more information. We've got all you need to help your business reach new heights on Amazon.